Established in 1964 in beautiful Markdale, Ontario, the Markdale Golf & Curling Club features a challenging 9-hole golf course that is located minutes from the Beaver Valley in Grey Highlands. The course offers a unique golf experience in a natural setting with mature greens and manicured fairways that have been built for golfers of all skill levels.
The Markdale Golf & Curling Club staff are committed to providing you with customer service that will make your golf visit memorable. Let us show you why the Markdale Golf & Curling Club is one of the best kept secrets in Ontario!
When the golf season winds down, the curling season is ready to commence.  The Club has 4 sheets of ice in a newly refurbished rink.  There is a warm and cozy lounge for you to enjoy your favourite beverage after your game.   Join us for one of the numerous bonspiels and social events planned for the curling season!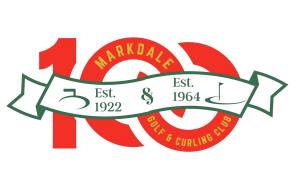 Join us for Markdale Golf & Curling Club ** Festive Dinner**  Mark your calendars – December 11th, 2022. There will be 2 sittings – 5:00 pm and 7:00 pm.  Contact the Club for tickets (519)986-2690.  Tickets price – $30 per person.